Excitement just cannot get off me whenever I heard the word 'Lego'! Tell me who does not love Lego though? Except when someone accidently stepped on it or bunch of the Legos. Oh do not you mention the pain one have to bear. So painful. Well I am bringing you a good news, dear Lego lovers! Now we can all witness buildings made out of legos in front of our eyes, unlike the ones we build during our childhood but THE REAL structure itself!! Sounds so awesome, right?
Since the Legoland theme park is located at Nusajaya, Johor, I have the privilege to apply for the annual card access. So guess what? My whole family applied for it and we did enjoy ourselves there with countless access. You can search more about the pricing and tickets at Legoland Malaysia . So Johorean out there, come and join me!
Legoland's Theme Park map
The image I attached above is how it looks like inside the Legoland Theme Park. For those who did not know, Legoland also has a water theme park which offers you varieties of exciting water rides and activities. Although I am no longer a kid, but the kid inside me just get so happy whenever going to the water park. I believe I am not the only one! So the water park looks like this :
Legoland's Water Theme Park
There

are

so much story to share with you

guys

but I will just emphasize on the highlights of my recent trip. My family played almost all the rides it has there and enjoyed every single bit of them. Most of the ride here are suitable for both adults and children but still some of the rides require a parental guide or based on one's height. Luckily I am tall enough to ride them all, that is the reason I am enjoying it the most compared to my younger siblings.
My brother enjoying at the Boating School
My younger siblings with the Legoland's mascot
There are two Dragon Roller Coaster rides; one is suitable for adult and the other one is for the children. Of course I rode both! Both were not THAT extreme so it is fine for those who are scared of height. Plus the it is just a short ride so there is nothing to be afraid of. Do not forget to try it, okay?
Dragon Roller Coaster ride
If you already get tired of Legos, head over to a playground which made out of wood. It offers the exact same fun (for me) as it has a lot of space for me to run here and there; playing around with my siblings like no one is watching. Since it is an open playground, the sunlight shines above your head and the chances to get sweat is high. So you
might
probably
consider bringing extra clothes to change.
I love playing with water so my favourite part in Legoland is of course the water ride at Dino Island. I always end my day here with the water ride so that I will not be drenched out for the next ride. To be completely honest, this ride is what I look for in every single trip I go to Legoland. I get so hype up when the water splashed all over me. Definitely recommending this to all of you. Try it! You are so going to enjoy the ride.
Spot me (hint: the most excited face)
My second favourite part in Legoland would be the Miniland site, located at the middle of the theme park where a miniature world of Asian landmarks are

built using more than 30 billion Lego bricks. Is not that amazing? The thought of it left me in awe and goosebumps too. The miniature is very precise and nicely done without any defect. I have so much respect to those people who have worked on the precious creatures.
China's landmark
Lego miniature
Singapore's landmark Lego miniature
Writing this entry makes me want to go Legoland all over again. I am not going to lie, every time I go there always feel like the first time. Maybe it is because Legoland updates its park by adding new attractions once in a while to draw customers from all over the globe. I suppose I am going to stop here for now. Hope my writing have benefited you and gain your interest to come to Legoland in future.
Feel free to drop your feedbacks in the comment section. Thank you for reading this entry. See you in the post!
Cheerio!
Genting Theme Park, Pahang
Genting Highland Theme Park
The last time I went to Genting was three years ago, with my high school buddies. I still remember the breeze and misty air but that did not stop me from joining all the rides there. Genting Highland has both indoor and outdoor t
heme park, and I love both nonetheless. If you notice the colourful building in the image above, it is a hotel by the name of First World Hotel. It is a three stars hotel with 7351 rooms, attained the Guiness World Record for the largest hotel in the world by number of rooms.
Indoor Theme Park map
As far as I remember, the indoor attractions include family rides, children rides, haunted adventure and Ripley's Believe It or Not. I have tried them all and it was exciting, especially the
Ripley's Believe It or Not! If you ever watched the show on TV, you must be excited to see more than 500 exhibits in the museum from Robert Ripley's
collections. He explored 201 countries in 35 years to seek rare things and was known as
a cartoonist, explorer, reporter, adventurer, and collector. I was quite rushing last time so I did not manage to play at the video games park, SnowWorld and Behind The Scenes. If you happen to be there, please play them on my behalf, okay?
Ripley's Believe It or Not!
Now let's move on to the outdoor attractions. During my trip back then, there are quite two or three rides closed due to some renovations but luckily I had the chance of riding them with my family few years before. I was so happy because the weather was just nice; not too cold and not too hot. A friendly reminder, you might want to to bring a sweater in case if you could not bear the breezy environment. I wore a cardigan last time and it is enough.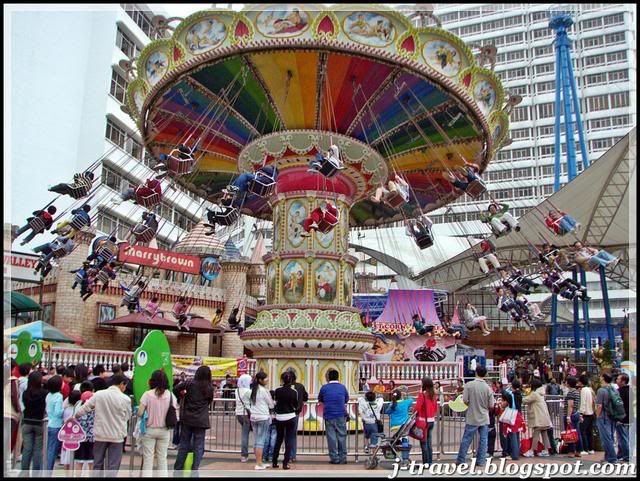 Upon entering the entrance for the outdoor theme park, you will first encounter the Spinner ride as shown above. I am the type of person who love to try thrilling things so this ride is a 'yes' for me. I felt like I did not have any stomach while being spinned. Luckily I was not feeling any dizziness after that.
The most thrilling ride for me is the one called Space Shot. Imagine yourself being brought from the ground up to the sky, then going down to the ground with different speed. It was a crazy decision to ride it yet I liked it the most out of all rides at the outdoor park. For the people who are scared of heights, go challenge yourself!
Spiderman Bullet
Oh not to mention the Spiderman Bullet! This ride is a bit different from the others since you are riding it a 'standing' position unlike the normal roller coaster rides where we sit at al times. I dragged all my friends to ride it and we all super heart it. the ride is unpredictable; sometimes you are facing upwards, some other time you are already facing downwards. Just my kind of thing!
If you come here with the elders, I suggest you to bring them on a Cable Car ride to enjoy and relax while viewing Genting Highland from the top view. It is so nice and colourful. I am sure all of you are going to love it!
I am just sharing my experience going to Genting Highlands Theme Park which may be differ with yours. Tag me along in your post if you are writing about Genting Highlands too, okay? So that is all the highlights of my trip there last time. I heard that the outdoor park is closed now for renovations and will only be open in 2016 with more adventuring attractions by the name of 20th Century Fox Theme Park. How cool is that? I guess it is a good news for us all! I must save some money now to go there next year. Let's plan a trip there together! It must be so fun!
Thanks for reading, guys! See you in other posts.