Sarawak Cultural Village, Sarawak
Indoor map of Sarawak Cultural Village
Sarawak Cultural Village is also known as the 'Living Museum', specially set up to preserve and display Sarawak's cultural heritage. More interesting, the village is actually a living museum! You can find this village at Pantai Damai, Santubong, about 32km from the state capital; Kuching. In my opinion, it is the perfect place for people to be introduced towards the local beliefs and lifestyle.
Ticket counter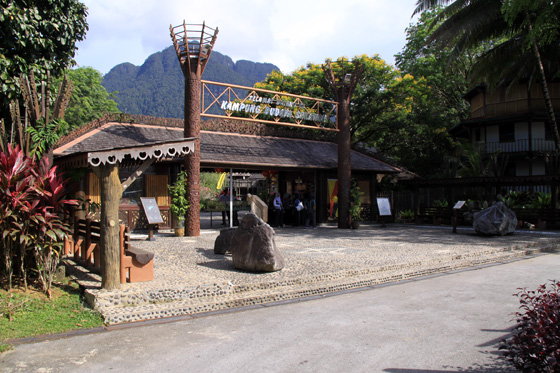 Entrance pic
The interesting part you will be excited about is you get to mingle around with the local tribes in their genuine homes and learn their customs by joining the workshops offered there. Do not miss a chance to join them or else you will regret it later. You cannot find Sarawak's cultural display as exciting as it have in the village, I assure you. Few centuries back, many different tribes that wandered the forests used to populate in Sarawak. As for the present days, you will only get to see some since most of them reside isolated from civilization, normally in the Borneo jungles. Unluckily, they are even threatened due to deforestation.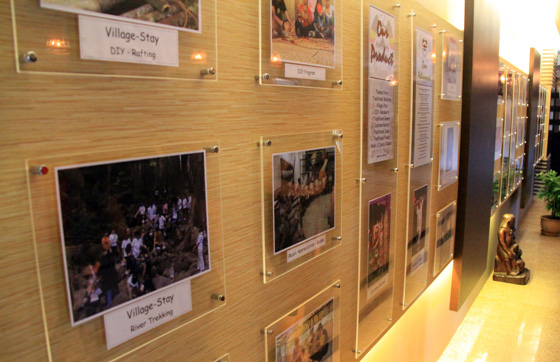 Historical display
Within the wide village, I can see a lot of classic tribal houses, also renowned as longhouses (rumah panjang). I only get to see longhouses in my History book before but wandering around the village had left me in awe. It is so incredible that one family or sometimes even multiple families lived together in the longhouses! I really like the idea of it since you can mingle around and widen the network rather than only staying with your own family. I was led by the village residents who informed about their various traditional cultures and lifestyles. I experienced to see the replicas of buildings which represent the major ethnic group in Sarawak such as longhouses of the Iban, Bidayuh and Orang Ulu, a Melanau tall-house and a Chinese farm house among others.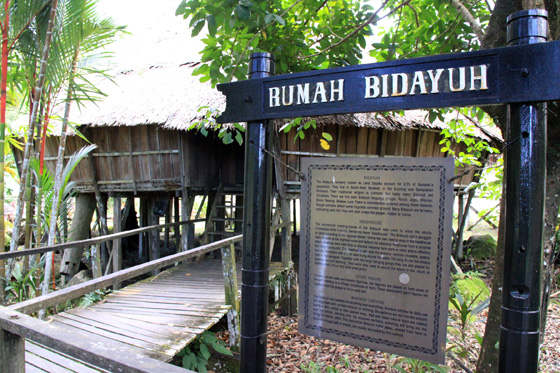 Rumah Bidayuh
Long house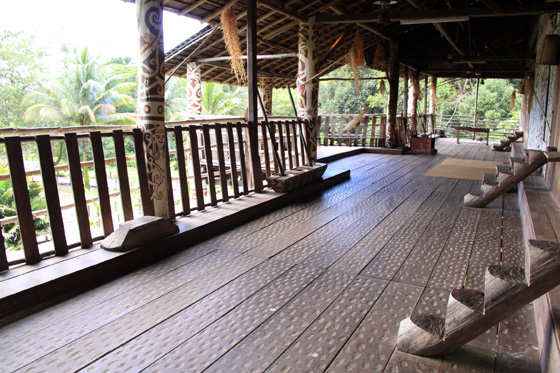 Closer view of long house
I must say that the highlight of my visit to Sarawak Cultural Village is the dance performance where skilled dancers illustrate various traditional dances. Each dance originates from a disparate tribe so you will get to see a lot of them on stage. The performance really made my jaw dropped; so graceful and unique. I even joined them on stage to feel the excitement of being like one of the tribes. I had so much fun dancing even though I was laughing the whole time because I could not follow the dance steps.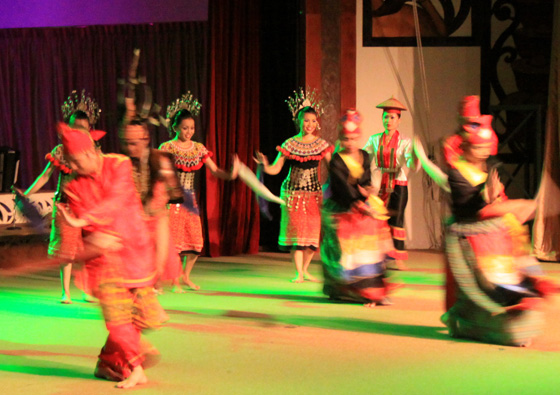 Dance performance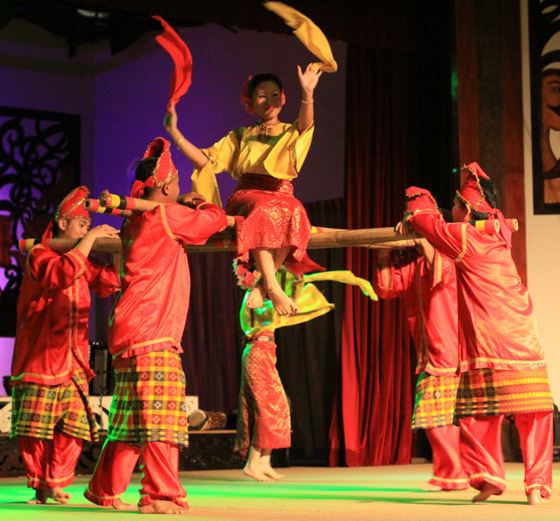 Traditional tribe dance show
After the dance, I decided to stroll around the village. I had a closer look in a few of the houses and longhouses which were uniquely decorated. Looking at those beautiful decorations made me want to learn more about arts since I only learn about the basics one during my high school time. I was so in love with arts since then.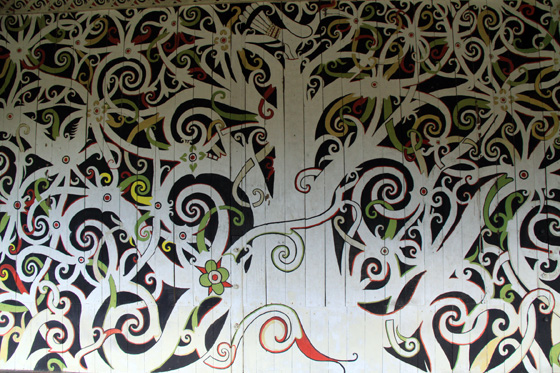 Arts on the house wall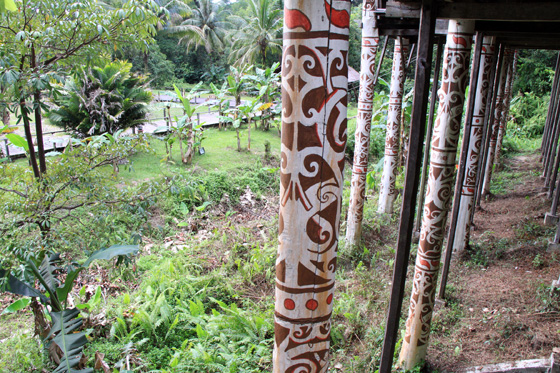 More arts on house's pole
Not to forget, there is a place in the village where guests are welcomed to get married in traditional Iban, Malay, Bidayuh or Orang Ulu style. I have not had the chance to do so because it was getting late by that time and I need to go somewhere else after that. Since I left a little bit early, I did not get invited to attend ceremonies at night where guests can drink a potent rice wine, tuak, which the Iban make themselves. even though I cannot drink any of them but I would really love to enjoy the moment.
I apreaciate your time for reading this, Thank you! If you have anything to share, just drop it at the comment section below.
See you in the next entry!
St. Paul Church (A'Famosa), Melaka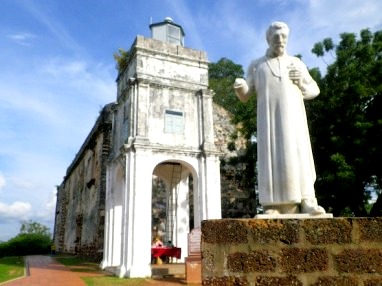 St. Francis Xavier statue featuring the Church
I had my trip to Melaka earlier this year for the fourth time in my life. I did not capture a lot of pictures since the weather was gloomy and rained once in a while. But that does not affect me much since I still remember the history of the ancient building. Let me bring you about 400 years back in time…
Interior view of the church
In 1521, the Portuguese Captain; Duarte Coelho, initiated to build a Catholic Chapel. It is said that the church was built as an act of gratefulness due to his incredible escape from enemy attacks in the South China Sea. I still remember my teacher told me that the church was formerly known as the Chapel of the Mother of God (Madre de Deus) or Our Lady of the Hill (Nossa Senhora do Oiteiro) during the time when Portuguese rule in Melaka.
Church view from low angle
For your information, The Dutch repaired and reconstructed the church into a Dutch Reformed Church after a war with Portuguese. It was renamed as St. Paul's Church which sustains until now. The Church was used for worship for the next 112 years by the Dutch. When the Dutch built The Christ Church at the foot of St. Paul's Hill, the St. Paul's Church was slowly abandoned. Later on, The Dutch turned St. Paul's Hill into a burial ground for their patricians. I stumbled upon some huge granite tombstones inside the St. Paul's Church during my recent trip.
A Tombstone found inside St Paul Church
I believe some of you might wonder why there is St. Francis Xavier's Statue in front of the church, right? Well, it is because St. Francis Xavier was protected in the St Paul Church hence the location. His marble figure was built up on March 22, 1953 to honor the passing of the saint from 1545 to 1552 while spreading Catholicism in Melaka.
St. Francis Xavier statue
I was also curious on why does the Statue lost its right arm so I search the history on website. So the information described that in 1953, a large Casuarinas tree fell on the statue on the morning after the blessing ceremony yet impaired only the right arm. To my surprise, the reason behind the lost arm was not being fixed is because St. Francis Xavier's right arm; which he used to bless and baptize his converts, was removed by Priest Gen.Claudio Acquaviva because the Pope needed it for his canonization in Rome. Such a miracle. What do you think?
St. Francis Xavier statue without his right arm
Above all, I enjoyed my short trip regardless of the weather. Well at least I get to spend my fourth tour in another way round, not just like my usual trip. I was basically spending my time appreciating the historical building and thinking how solid the building was built until it lasts up until now.
I thought of climbing up the St. Paul Hill again next time so if any of you want to join me just let me know, alright? Hope this entry is beneficial enough and expose you with new findings.
Thank you for bearing with the review.
Let's meet in the next post, shall we?