Royal Belum State Park, Perak
Map of Royal Belum State Park
As fancy as the name is, Royal Belum State Park is recently addressed as one of Malaysia's best kept eco-tourism enigmas at Europe's biggest tourism fair. It is located within the Belum-Temenggor rainforest reserve area. Sharing title with Taman Negara National Park, both are among the oldest rainforest in the world aged around 130 million years. Let me tell you something, Belum is a state park and not an official National Park which means that local government is allowed to use the area for construction forest and future development. I am really sure that if Belum is well managed, it has the prospective to become Malaysia's premier eco-tourism destinations in future.
For a good start, let me show you a glimpse of Royal Belum State Park. Enjoy!
If you ask me what I love most about this place, I would definitely mention about the rafflesia it have in the park. I am so excited to know that there are three species of the rare flowers which you can find here. More awesome, I have heard that this park is the only place where you can encounter all 10 hornbill species in Malaysia. It is so cool! This park also hosts as a natural habitat for some threatened mammals namely the Malayan Tigers, Sumatran Rhinoceros,
Malaysian sunbear, tapirs and the white-handed gibbon. If you are lucky enough, you will get the chance bumping into those endangered creatures.
Rafflesia flower
Malaysian sun bear
White-handed
gibbon
Within the park, you can find a calm lake called Lake Temenggor which is the second largest lake in Peninsular Malaysia after Lake Kenyir in Terengganu. It is a manmade lake and is used for freshwater catchment like the fish of Kelah, Toman, Sebarau, Baung and Tenggalan. So for the anglers out there, now you know where to go after this okay?
Fishing experience at Lake Temenggor
I would recommend all of you to explore the beauty it owns at Royal Belum by going to Kooi waterfall to witness the amazing scenery and tranquil sound of water splash around you. It helps me to clear my mind and have a stable emotion whenever I hear the sound so I guess it works on you too. I have not had the chance to go Talikail Island Lookout Tower to embrace a breathtaking view like many people claimed but hopefully one fine day I will get to go there. Who knows I might be going with you readers, right?
Kooi Waterfall
For your information, you can also pay a visit to Kampung
Chuweh
where the aborigines (Orang Asli) stay. I have been to an aborigines settlement before near Banding Lake so I did not go to Kampung

Chuweh

, thinking that I would be seeing the same thing. So I guess why do not you guys figure it out for me and share your experience in the comment section later on. I would love to read it!
My experience at an aborigines settlement
Oh before I forgot, I have listed out some essentials that I thought important during the trip to Royal Belum so I am sharing it with you guys for a little bit of reference. Hope it helps!
Checklist trip to Royal Belum State Park
ü
First aid travel kit + personal medicine
ü
Dry clothes in waterproof bag
Please make sure you enjoy your trip while you are there, okay? It is such an
awesome place to have a getaway for busy urban life. Do not forget to take lots of pictures and share with the others. Who knows you might assist someone for their trip to Royal Belum State Park later. For more info, head over to Royal Belum Outdoor .
Thanks for reading. Till the next post, guys!
Taman Negara Kuala Tahan, Pahang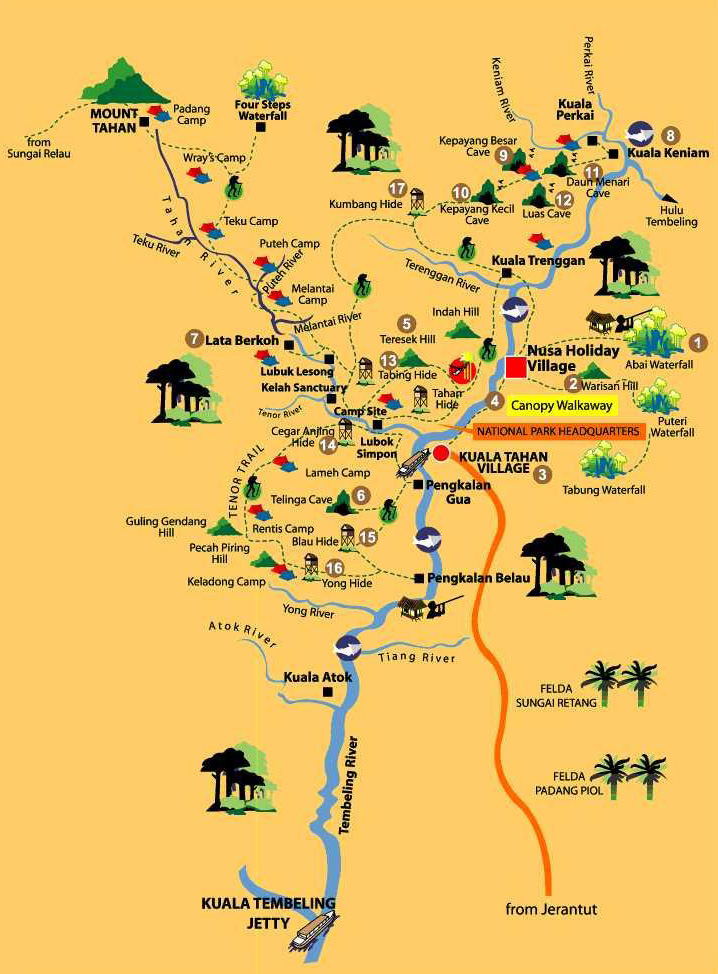 Taman Negara Kuala Tahan map
Taman Negara Kuala Tahan is a suitable place for adventurous people and those who love to explore nature like me. With a total area of 4,343sq km, Taman Negara spans three states - Pahang, Kelantan and Terengganu. Gunung Tahan; the highest peak in Peninsular Malaysia can be found within the park.
Park signage
If you happen to go here, be sure to spend the most out of your time exploring the tranquility and scenic view it owns. Put your gadgets away and get connected with the flora and fauna around you, okay? It is surely worth your time spent. I hereby suggest you to try out the exciting activities to kill the time during your stay at Taman Negara Kuala Tahan. Let's find out what you can do!
Do not miss a chance to get your feet on the world's longest canopy walkway; 530m long and 40m above the ground level. Is not that amazing? I must say this is the obligatory activity for you to do here. Snap some pictures is fine but do enjoy the panoramic view along the walkways. This walkway is 1.2km from Wildlife HQ and can be reached by boat or trekking.
Longest canopy walkways
I have heard that Taman Negara Kuala Tahan is the best place in Malaysia to do trekking. Trail to Bukit Teresek is the most famous trail among the many others. Experience a walk under the bulk rainforest canopy about 1.7 km from Wildlife HQ to Bukit Teresek and will take about 30 – 45 minutes to reach its peak. You shall enjoy the wonderful rainforest canopy throughout the hills and magnificent scenery of Gunung Tahan from the top of 334m height which can be seen during clear air. As said by the forest crew, Tenor Trail is one of the most challenging trails and less explored. Go and try yourself if you are adventurous enough!
Trekking in Taman Negara
ü
Visit Kampung Orang Asli (Aborigine Settlement)
It feels like going to the other side of the world, where you are able to see the people who are isolated from civilization yet live a happier life than urban people. They usually live alongside trails and rivers. As far as I know, there are two ethnics of Orang Asli here in Taman Negara namely Batek and Semokberi. As you can see, they are moderate folks with dark skin and curly hair who live as a nomad in Taman Negara. They are friendly and respect others too, just that they their own language. I would like to remind you to ask for permission first before taking their pictures, showing respect towards the family's privacy.
Me with a girl from the aborigines
I would suggest this activity for you to have a relax moment while enjoying the mother nature alongside the river. Throughout the journey, you will be cruising upstream of Sungai Tahan heading to Lata Berkeloh. Most of my friends who have been here claimed that Lata Berkeloh is one of the treasured spot in Taman Negara Kuala Tahan. Now here comes the best part; stop by at Kelah Sanctuary where you can feed and feel the soft bites by Kelah; the freshwater king fish in Malaysia. My tour guide had once jokingly challenged me and my friends to catch the fish with our bare hands. Well of course we failed but it was such a hilarious moment for us all. Try it yourself if you come here, okay?
Cruising and enjoying mother nature

Feeding ikan kelah

After exploring the outside world, why not come and say hi to the creatures that live in cave. Gua Telinga; a limestone cave is situated 2.6km from Wildlife HQ. Based on others' experience, this activity is suitable for a half-day activity. I would like to call all the exotic animal lovers to discover the cave. You will encounter various bats, racer snakes and bizarre insects around you. As suggested by the tour guide, challenge yourself to Gua Kepayang Besar; a larger chamber cave in Taman Negara. You will have a trek via the real jungle trail to the cave. I would recommend you to spend your night in the magnificent cave, it is surely worth your sweat and time.
Cave exploration
I have to admit that this would be the toughest activity in Taman Negara Kuala Tahan. For your information, Gunung Tahan is the highest peak in Peninsular Malaysia with 2187m height. According to a friend of mine who have climbed it before, the trail is one of the most challenging paths to hike in Malaysia so make sure that you are physically and mentally fit for this activity. Kuala Juram – Gunung Tahan – Kuala Juram route is getting more popular among climbers because you just spend 4 days 3 nights hiking compare to 7 days 6 nights for other routes. Pretty amazing! What do you think? Find out more about hiking here at Gunung Tahan expedition .
Gunung Tahan hike
I think I have shared it all with you about the travel journey in Taman Negara Kuala Tahan based on experience and some reading. If you happen to go there one fine day, do not forget to share your story in your blog or you can just drop a comment to this post okay? I will be happy to read your feedbacks. Happy exploring!
Thank you for reading this entry.
See you next time, dear travelers!