Thinking of knowing the whole Malaysia already? I bet not! Now allow me to promote Malaysia's fun facts which you may not know yet. Enjoy your read!
1.
The largest cave chamber in the world by area is the Sarawak Chamber in Gunung Mulu National Park in Malaysia's Sarawak that could easily hold in forty Boeing 747 planes.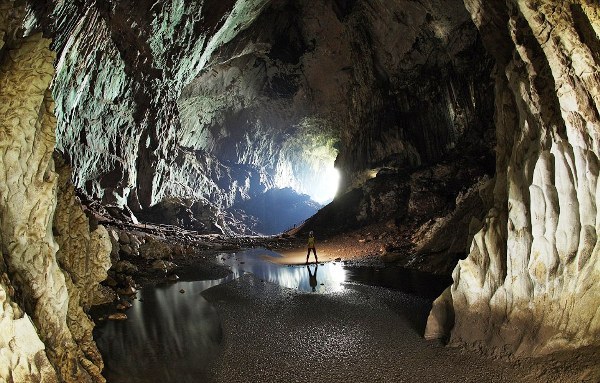 Gunung Mulu National Park, Sarawak
2.
Malaysia has 40,934 miles (65,877 km) of
highway
, making it more than Earth's circumference which is 24,901 miles (40,075 km).
Malaysia's highway
3. Putrajaya in Malaysia has the biggest roundabout in the world which is 2.2 miles (3.5 km) in diameter.
Putrajaya's roundabout
4. The largest undivided leaf in the world known as

Alocasia

macrorrhiza,comes from Sabah, Malaysia. A sample measured 9.9 feet (3.02 m) long by 6.3 (1.92 m) wide was found in 1966.
The largest undivided leaf in the world
5.
The Bintangor trees (Callophylum lanigerum var. austrocoriaceum) can only be found at Sarawak, which believed to cure the HIV virus, which causes AIDS.
Bintangor fruits
6.
The world's tallest buildings from 1998–2004 were The Petronas Twin Towers in Kuala Lumpur, Malaysia. In present days, they are still considered as the world's tallest "twin" buildings. A sky bridge joined the two buildings at levels 41 and 42, which is 558 feet (170 m) off the ground.
The Petronas Twin Towers
7. One of the world's largest populations of king cobras is located in Malaysia (Ophiophagus Hannah).
King Cobra
8.
Pomelo (Citrus maxima); the largest citrus fruit in the world are found in Malaysia. It can reach a small football size and weighs from 2.2–6.7 lbs. (1–3 kg).
Pomelo
9.
One of the oldest rainforests on Earth is Malaysia's Taman Negara. It is older than the tropical rainforests of the Amazon and the Congo Basin, aged 130,000 million years. Interestingly, it holds over 10,000 species of plants, 1,000 kinds of butterflies, 140 types of animals, 350 bird classes, 100 kinds of snakes and 150,000 types of insects.
Malaysia's Taman Negara
10.
The world-renowned shoe designer named Jimmy Choo was born in Penang, Malaysia. Late Princess Diana once desired his designs. In 2003, he was awarded an OBE from Queen Elizabeth II.
Jimmy Choo and his shoe design
11.
In Sabah and Sarawak, there are more than 60 sub-ethnic groups.
Some of the sub-ethnic groups
12.
One of the world's top diving spots is located at Sipadan Island, Sabah, Malaysia.
Diving in Sipadan Island
13.
The Kuala Lumpur Tower with 421 meters height, is the fourth tallest in the world and tallest in Southeast Asia.
Kuala Lumpur Tower
14.
The Penang Bridge is the third longest in Asia with 13.7 km long.
Penang Bridge
15.
Tanjung Piai, located in Johor, Malaysia, is the Southernmost Tip of Interior Asia.
Tanjung Piai
All of them are amazing, is not it? For those who have not experienced visiting Malaysia yet, do not think twice! Come and experience yourself the fascinating and uniquely Malaysia that will make your stay here a little longer than planned.
I really hope that I have exposed and giving good impressions about Malaysia for you dear readers. Share your comments below if you find Malaysia is more fun than what have I listed above!