Pavilion, Kuala Lumpur
The lush Pavilion
I am calling for luxury shoppers to get your feets on at Pavilion, Kuala Lumpur and experience the lush air there. Plush shopping is not my thing yet I love the feel I get when I am there. Feeling so wealthy in all of a sudden. From what I see, Pavilion have the brands which cannot be found elsewhere except there. Sounds so exclusive. What do you think? Interestingly, the mall have won the Malaysia tourism award in 2009 for most innovative shopping centre. A total of 15 local and international awards is the record it holds for now.
Heaven for the plush shoppers
It hosts more than 450 stores, spread over seven levels. Imagine being in my shoes where I have to accompany my aunty shopping in the mall. Well women being a women, every store is a must to enter eventhough you do not have the intention of buying. Window shopping, they say.
I was somehow happy and lucky despite the tiredness because I get to touch expensive things. Only then I start to understand why designer brands are so expensive, because the quality is unquestionable and made with precise detailings. Seeing wealthy people shopping in the mall, I wish to be rich in future so I get to shop lush things as a reward for myself.
Hope this post has inspired you to work harder in life so we all can shop til we drop! How would you rate this place? Share in the comments below, okay?
Thanks for reading. Till the next post, dear readers!
The Zone Duty Free, Johor
The Zone actually have a lot of outlets within Malaysia but I choose to review about the one in Johor because I used to go there. The location is just 2km away from the Johor Bahru Singapore causeway, making it easily accessible for Singaporeans.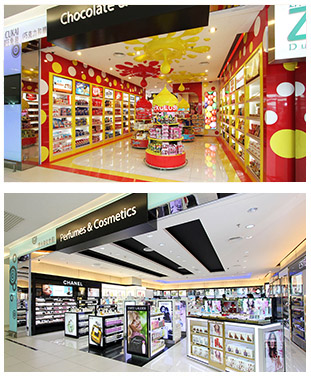 What I love most about The Zone is it offers varities of products and brands as well, with a cheaper price compared to other retail stores out there. I never hesistate to buy things here because everything is affordable here. For once in a lifetime, I feel like the richest lady on earth for taking items without considering the price. I always look for perfumes, cosmetics and chocolate whenever I go here.
It is obvious that this place is suitable for moderate people to shop for essentials. I saved so much money buying things here so I am suggesting you to shop at The Zone too.
For more information on the outlets location, search at
Zon
. Who knows it might be just around your place, right?
Please come here, guys. The Zone is certainly my kind of place to shop.
Feel free to share your shopping experience at The Zone with me. You can also suggest some other places which is interesting to shop by.
Thanks for reading this entry.